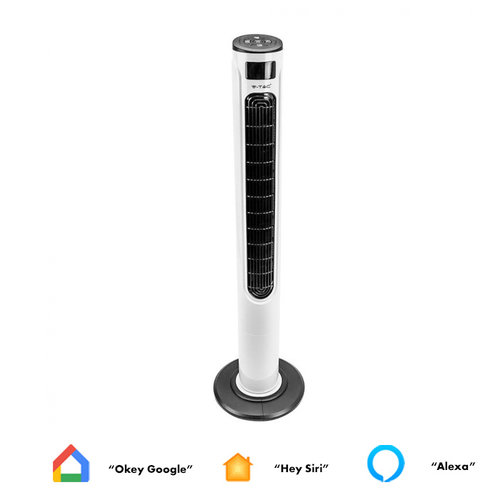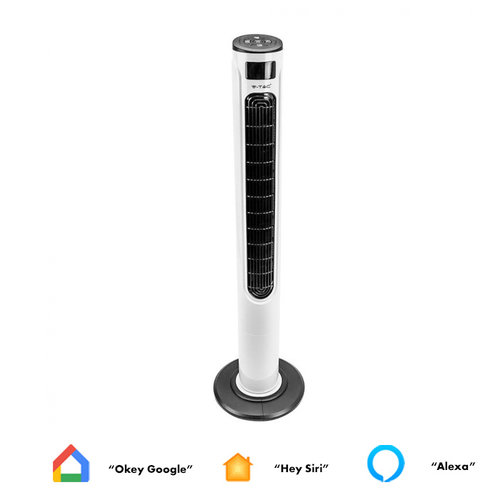 Smart Tower Fan with LED display cools your home in a smart way. Operate the tower fan via your smartphone or voice-controlled via your Google Home or Amazon Alexa. Adjustable in 3 different wind modes.
Read more
Ordered before 22:00, delivered tomorrow.
Smart Fans
To cool your home in a smart way, of course you choose the smart fans of Homeylux. The fans can be controlled via the display it is equipped with, the corresponding remote control, your smartphone and even voice controlled with Amazon Alexa or Google Home. Cooling your home has never been so much fun and easy.
Functions of the smart fan
The Homeylux smart fans are ideal for hot summer days. The fan smart has several functions. For example, the smart fan has different wind speeds and wind mode. So you can decide for yourself what you like best.
The smart fan can be blown in different directions. You can lock the fan and let it blow out in one direction, for example to the place on the couch where you sit, or around the room. The smart fan rotates up to 70°.
Operating fan smart with the Homeylux App
The smart fans are easy to operate. The smart device is equipped with an LED display, with which you can control the smart fan. You immediately turn the smart tower fan on or off, determine the wind speed and wind mode, turn the rotation on or off, but you can also set a timer. 
The smart fan is also equipped with a remote control. With this remote control you can control the fan from a distance. Do you want to use the real smart functions? Then use the Homeylux App on your smartphone or tablet. Click here for instructions on how to pair your smart device with the Homeylux App. With the app you can turn your smart fan on or off, wherever you are. You can also use the handy time schedule function. This allows you to set the times at which the ventilator automatically switches on or off. This is handy in the bedroom, when you're in bed. Turn the fan on and set a time when the fan should switch itself off. Once you sleep, you don't have to get up in the middle of the night to turn the fan off. This way you save on energy consumption and energy costs.
Voice controlled smart fans
Do you already have a smart home, and do you use a smart assistant like Google Home or Amazon Alexa? Then Homeylux's smart fans can be connected to this as well. This way, the fans can also be controlled by voice. This way you don't have to stand up from your desk and interrupt your work to turn the fan on or off. Feel free to stay in your seat and control the device via voice-control.
Smart fans are a smart start
If you want to make your home smarter and smarter, a smart fan is a good start. Creating a smart home doesn't have to be complicated. Take a look at the Homeylux smart lighting, which you can use to brighten up any room in the house. Or turn your normal devices into smart devices with the smart plugs and switches. All smart Homeylux devices can be controlled with the Homeylux App, or a smart speaker of your choice.
Interested in buying the smart fans?
Are you interested in buying the smart fans of Homeylux, but do you have some questions or would you like to receive more information? Feel free to contact our customer service. Call +31 (0) 851304186 or send an email to [email protected]. We will be happy to help you.