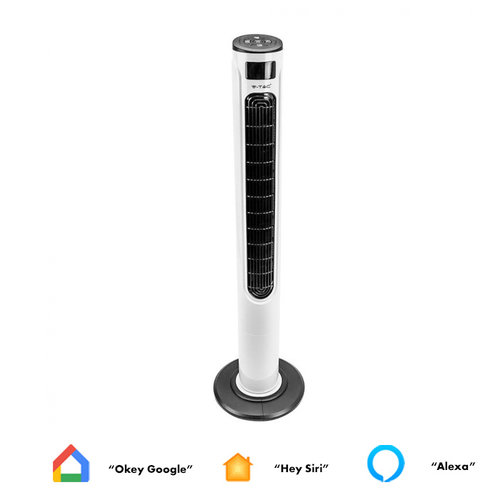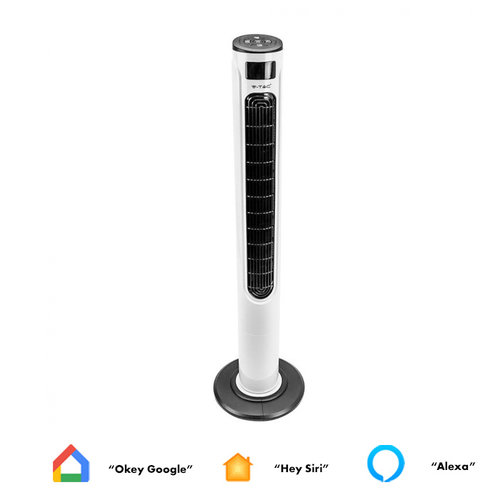 Smart Tower Fan with LED display cools your home in a smart way. Operate the tower fan via your smartphone or voice-controlled via your Google Home or Amazon Alexa. Adjustable in 3 different wind modes.
Read more
Ordered before 22:00, delivered tomorrow.
Smart Cooling
In the summer months, of course, you want to make sure your house stays cool. Say goodbye to the heat in the house with the smart fans of Homeylux. The smart cooling of your house offers many possibilities. For example, you can operate the fans using the accompanying remote control, but also with your smartphone or even speech-controlled.
Control your smart cooling devices with the app
The smart fans can be connected to the Homeylux App. You can download these on your smartphone or tablet. Click here for instructions on how to pair your smart device with the Homeylux App. With the app you can operate the smart fan directly. You can turn them on or off wherever you are. You set one of the wind modes, from soft to hard blowing, or you turn the rotation function on and off. When you're sitting on the couch reading a book, and you notice that it's getting too hot, you turn the fan on without standing up. You can let the fan blow your way, all at the push of a button. 
You can also set a time schedule on your smart ventilator.  This way, you can turn the fans on and off at fixed times. Do you know that in the afternoon around 3 o'clock it can often get very hot in the living room? Then set the smart fan so that the device automatically switches on. This way you don't have to turn it on manually.
Smart cooling with Google Home and Amazon Alexa
Do you already have a smart house and use a smart speaker? Then you can also connect your smart fan to it. Via your smart speaker like Google Home or Amazon Alexa, you can also control your smart Homeylux devices by voice. Your smart fan can also be connected to it. Tell your smart assistant to turn on your smart ventilator by voice.
Besides smart cooling also smart heating
Besides the smart cooling of your house, with Homeylux there is also the possibility of smart heating of your house. Take a look at the smart heating category to see these smart products. In addition, you can turn ordinary devices into smart devices by means of the smart plugs and sockets. Or create a cosy atmosphere in your home with the smart lighting of Homeylux. It's all possible.
Interested in smart cooling your house?
Are you interested in buying the smart fans of Homeylux, but do you have any questions? Don't hesitate to contact our customer service. By calling +31 (0) 851304186 or sending an email to [email protected], one of our product specialists will help you!