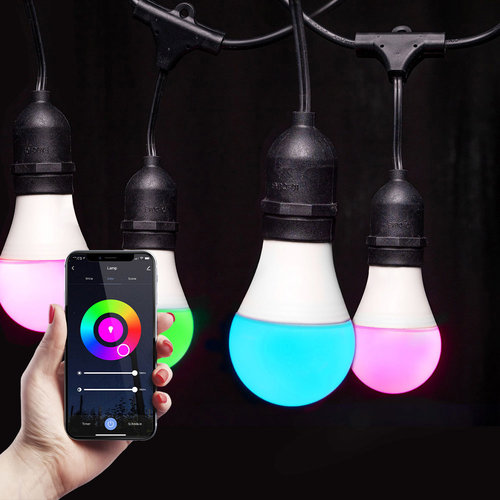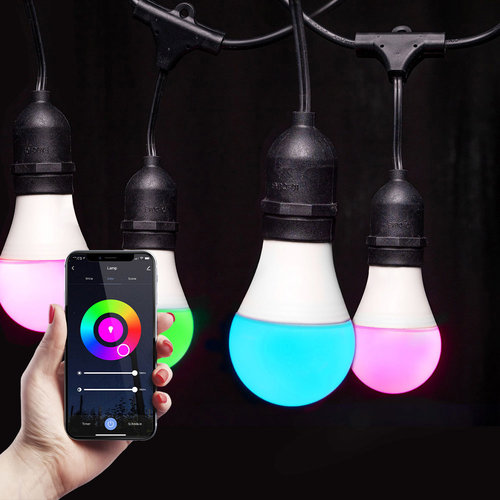 This LED string light of 15 metres is equipped with 15 E27 smart LED lights and has an IP-value of IP65. This makes the LED string suitable for both indoor and outdoor environments. Ideal as atmospheric LED garden lighting!
Read more
Ordered before 18:00, delivered tomorrow.
Smart LED Strips
Smart LED Strips
LED strips give you the flexibility to customize them to your preference. You can shorten, bend and lengthen them to make them exactly right for the space you want to place them. The smart LED strips from Hoftronic Smart are of high quality and are very suitable for use in the home. Place them in your wardrobe, in the bedroom, behind your TV or under your kitchen cupboards. The possibilities are endless. And the fun part? They can be operated via your smartphone, tablet, or your smart assistant as Google Home or Amazon Alexa.
Advantages of smart LED strips
When it comes to lighting your home, you want to do this as effectively and energy-efficiently as possible. Hoftronic Smart light strips are durable, use little energy and are easy and quick to place wherever you want. Use them as mood lighting for your home, but also for the windows of shops, in the hospitality industry or in office buildings. The strips LED can be adjusted in light intensity, light colour and colour temperature.
Hoftronic Smart App
The smart lighting of Hoftronic Smart can all be controlled via the Hoftronic Smart app. Connect your smart LED strips to the app, and it's ready to use. The app allows you to control the lights instantly and directly, wherever you are. You'll also find the scheduling feature on the app, which lets you set the times when your lights automatically switch on and off. This way, you won't have to worry about it anymore. Convenient for when you're not at home!
Smart lighting from Hoftronic Smart
The LED strips are not the only smart lamps with which you can light up your home in a smarter way. Check out our other smart lights! In our collection you will also find LED Bulbs, ceiling lights, wall lights  and garden lighting. So you can make sure that all rooms in and around your house are illuminated according to your style and preference.
Want to buy the smart LED strips?
Are you interested in purchasing Hoftronic Smart LED strips, but do you still have questions or do you need some advice? Don't hesitate to contact our customer service. You can reach us via the following phone number: +31 (0) 851304186. We are happy to help you with all your questions.