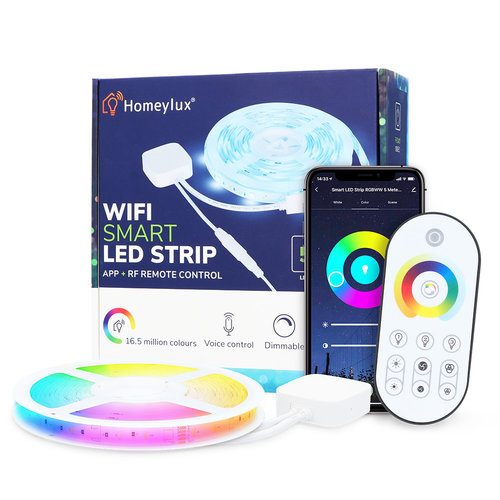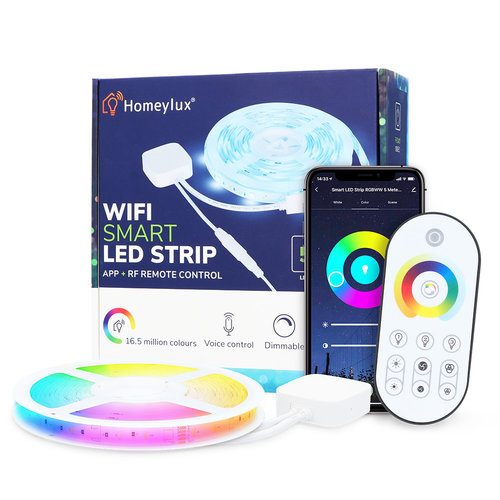 5 metres Smart LED Strip WiFi RGBWW can be controlled via the Homeylux App, voice-controlled via a smart assistant, or directly with the remote control. Can directly be connected to the WiFi network. Fully customizable!
Read more
Ordered before 22:00, delivered tomorrow.
Complete sets of smart LED strips
Are you looking for atmospheric lighting for in and around the house? Then Homeylux is the right place for you. On this page you will find all complete sets of smart LED strips. The smart LED strips are equipped with all the materials and tools you need to operate the smart LED strips and mount the strips. 
Smart LED strips from Homeylux
The complete sets of smart LED strips consist of an LED strip power supply and remote control. With the remote control you can easily operate the smart LED strips and adjust them to your wishes. But because the smart LED strips are a smart product, you can also control them with your smartphone or tablet. You can control your complete sets of smart strips with the Homeylux App. This is about your WiFi network. If you want to link your smart LED strip sets to the Homeylux App, we advise you to sit within 2 metres of your router at the first connection. Then set your WiFi network to 2.4 GHz, and turn off your 5 GHz. Would you like more instructions about the Homeylux App? Take a look at the video instructions.
Mount your complete set of LED strips
Mounting a smart LED strip is very easy. The smart LED strips from Homeylux are flat, and have an adhesive strip on one side of the strip. This allows you to stick the smart LED strips wherever you want. This way you can place the complete sets of smart LED strips in a cove, on a ceiling, under the kitchen cabinets or in a cupboard. You do not need any extra mounting material for this.
Smart lighting from Homeylux
At Homeylux you will find everything you need to turn your home into a smart home. Smart lighting plays an important role in this. With smart lighting you can set the atmosphere for every room and space, and adapt it to your mood and activity. Besides the complete sets of smart strips you will also find at Homeylux smart bulbs, smart recessed downlights, smart garden lighting and more.
Want to buy smart strips sets?
Are you interested in ordering a complete set of smart LED strips? Take a look at the smart LED strips of Homeylux, smart living. Do you have any questions about the smart LED strips, or about another smart home product? Feel free to contact us by calling +31 (0) 851304186 or sending an email to [email protected]. We will be happy to help you.